SSI CCR Diver / CCR Extended Range - JJ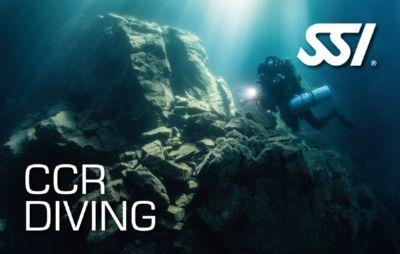 SSI CCR Diver / CCR Extended Range - JJ
The CCR Extended Range program qualifies you to dive to a depth of 40 meters using air, or up to 45 meters using trimix as a diluent with a maximum decompression time of 25 minutes. You will earn the SSI CCR Extended Range certification after completing this program.
Prerequisites:
Minimum Age: 18
Certification Prerequisites: Deep Diving, Enriched Air Nitrox, Advanced Open Water Diver,
Extended Range or CCR Diving
Academic Sessions: min. 8 hours
Pool/Confined Water Sessions: 2
Open Water Dives: 6
Maximum Training Depth: 45 meters / 150 feet
Suggested Duration: 40 hours
A JJ CCR + Total Diving System that:
Is approved by SSI and has CE-type approval (European version)
A single bailout cylinder (minimum volume:5.7liters) and bailout regulator with:

Second stage with 1-2 meter hose and SPG. Oxygen cleaned as required

Backup OC/CCR computer for bailout in the event of a system failure
A surface marker buoy (SMB)
Spool or reel appropriate for the planned dive depth
Cutting device
Surface signaling device
Manufacturer and/or SSI Pre-Dive Checklist
We will complete an academic development classroom session. Here we will complete a full equipment configuration. You must complete a final exam with a passing score of 80% for bot the SSI Examn and Unit (JJ) Specific Exam. Open Water training days will be at dive center of your choice.
How it works
You will be given sent an email to view the course materials on https://www.divessi.com/ to start your academic development. We will schedule 1 day to complete the academic development and kit configuration session. The Pool session will contain the swim test and skill development. 4 Days of Open Water will be the bulk of the program, with thorough video debriefing and feedback given at the end of each day.


As with all of our XR Programs
Certification lasts for life
We can rent you kit but the benefit from this course comes by configuring your own equipment.
All Learning Materials are included
All Pool fees are included, but open water dives are not included
All consumables are extra.
We are committed to your success, if you require more help we are there for you.